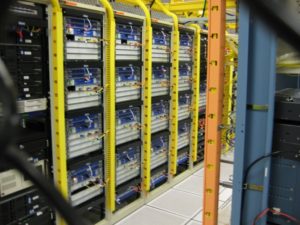 Philly Webmaster utilizes top tier data centers in Houston, TX and Provo, UT. Our Houston data center is located at the CyrusOne Houston West facility and our Provo data center resides within the Ace Data Centers facility. Our strategic application of these facilities provides the flexibility to deliver the performance, quality and reliability required for our customers to succeed. To ensure that service remains uninterrupted our data centers make use of state of the art server hardware, HVAC, electrical and network systems.
Philly Webmaster data center consists of a high performance fully redundant network incorporating the latest technologies. Our network infrastructure equipment includes high performance gear from Arista Networks, Arbor Networks, Brocade, Juniper and CISCO. To ensure low latency and high throughput we equip each of our geographically diverse facilities with with massive bandwidth capacity.
A wide array of network carriers are used including Level 3, nLayer, Comcast, Cogent Communications, and Hurricane Electric.
In addition to a fully redundant network and top of the line data centers, our system administrators monitor all servers 24 hours a day, 7 days a week. Servers are monitored and issues are acted upon before they become serious. Additionally, the network and data-centers are monitored and managed by on-site technicians dedicated to ensuring maximum up-time and reliability.
267-670-0691